*
Always For Pleasure (1978)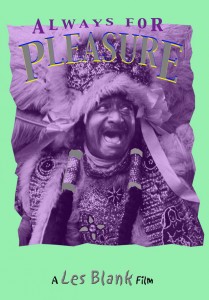 Always For Pleasure (1978)
Les Blank's celebration of the spirit and social traditions of New Orleans, featuring Mardi Gras and St. Patrick's Day celebrations. It is an intense insider's portrait of New Orleans' street celebrations and the unique cultural gumbo of Second-line parades, Mardi Gras, and the Jazz Fest. The film features live music by Professor Longhair, The Wild Tchoupitoulas, the Neville Brothers, Allen Toussaint, Kid Thomas Valentine and more. This glorious, soul-satisfying film is among Blank's special masterworks.
Photographed, edited, produced & directed by Les Blank Sound by Maureen Gosling
58 minutes. ISBN: 0-933621-00-0.
Home DVD: $29.95
Universities and University Libraries DVD: $150.00*
Universities and University Libraries Streaming Subscription via:


1 year ($150.00) or 3 years ($350.00)
* This DVD contains an additional 24 minutes of bonus footage of musicians, Professor Longhair, The Wild Tchopitoulas and the Neville Brothers, Blue Lu and Danny Barker and Art Ryder's second line band.
Friday, September 25, 2008
Famed New Orleans Jazz photographer Michael P. Smith died.
"Mike Smith encouraged me to make "Always For Pleasure" and helped me access nearly all the subjects visited in this film." – Les Blank