*
Chulas Fronteras (1976)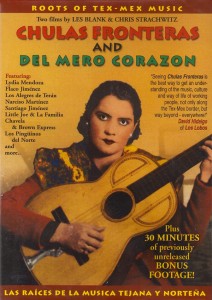 Buy DVD
Chulas Fronteras (1976)
A complex, insightful look at the Chicano experience as mirrored in the lives and music of the most acclaimed Norteño musicians of the Texas-Mexican border, including Flaco Jimenez and Lydia Mendoza. Video includes bonus feature, Del Mero Corazon.
A film by Les Blank & Chris Strachwitz
58 minutes. ISBN: 0-933779-01-X.
Selected by The Library Of Congress, to be added to the National Film Registry list of now 400 motion pictures, to be preserved in perpetuity.
Home DVD: $29.95
Universities and University Libraries: $150