*
Del Mero Corazon (1979)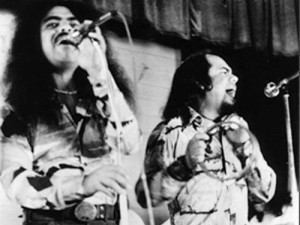 Buy DVD
Del Mero Corazon (1979)
A lyrical journey through the heart of Chicano culture as reflected in the love songs of the Tex-Mex Norteña music tradition. Performers include, Little Joe & La Familia, Leo Garza, Chavela Ortiz, Andres Berlanga, Ricardo Mejia, Conjunto Tamaulipas, Chavela y Brown Express and more. Shipped as a bonus film on the Chulas Fronteras video.
A film by Les Blank, Maureen Gosling Guillermo Hernandez, & Chris Strachwitz
29 minutes. ISBN: 0-933779-35-3.
This film is included on Chulas Fronteras DVD
Home Video: $29.95
Universities and University Libraries: $150