*
Werner Herzog Eats His Shoe (1979)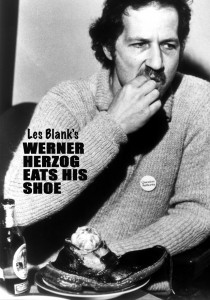 Buy DVD
Werner Herzog Eats His Shoe (1979)
Yes, German film director Werner Herzog really does eat his shoe to fulfill a vow to fellow filmmaker Errol Morris — boldly exemplifying his belief that people must have the guts to attempt what they dream of. Inspiring.
A film by Les Blank with Maureen Gosling, produced by Tom Luddy
22 minutes. ISBN: 0-933621-31-0.
Home DVD: $29.95
Universities and University Libraries: $150
Werner Herzog is forging ahead in his unique cinematic quest for truth. In this recent article:
A wild walk with Werner By Michael Atkinson